TireXtender UltraTireXtender
NASHVILLE, TN August 31st 2022 – Nashville based GoNitroTire, pioneers in providing Nitrogen Tire Inflation Products and Services in North America. The company is now manufacturing new & improved Nitorgen Aerosol top-off products.

With tire distributors and automotive dealerships throughout North America using Nitrogen for their ustomers, TireXtender and UltraTireXtender provide reasonably priced and convenient aerosol top-off products for automotive and cycling enthusiasts.

"These terrific products are a natural progression of GoNitroTire's core mission of providing sustainable roducts that improve tire performance and safety", said Kenneth Lawton, C.E.O. & Founder of GoNitroTire.

COSTCO, is one example in the network of Nitrogen tire services throughout all of their North American locations. "Nitrogen tire inflation provides consistent tire pressure, a longer safer ride, with better gas mileage; while extednding the wear of the tire" FORD MOTOR STUDY 2006 "Benefits of Nitrogen Tire Inflation."

With so many sectors of large industry using Nitrogen as their default choice for tire inflation – including all airlines, NASCAR since 1991, law enforcement and municipal fleets in many municipalities across the U.S. and the mining industry. GoNitroTire's Mission has been to provide innovative tire solutions to onsumers and commercial fleets to improve safety and provide sustainable technology to better tire wear. All of which provide sound environmental results by reducing landfill and improving Carbon reduction…
Green Facts:
OVER 300 MILLION TIRES are disposed of annually, in land fills and bodies of water in the United States alone. The use of Nitrogen in tires can reduce this by up to 30%

AIR – LEAKS THROUGH A TIRE WALL 3 to 4 times faster then Nitrogen inflated tires. Causing poor gas mileage and increased carbon emmissions. Rubber Manufacturers Association www.RMA.org

U.S. CONSUMERS use over 400 million gallons of fuel per day. Nitrogen Tires reduces fuel consumption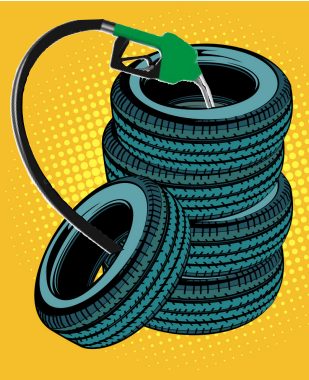 Related Links
Consult these websites for more information on Nitrogen benefits in tires:

DEPARTMENT OF ENERGY
www.eere.gov/cleancities

TECHNOLOGY & MAINTENANCE COUNCIl, Virginia
www.tmc.trucking.org
GreenerCars.org

BRIDGESTONE FIRESTONE
www.TireSafety.org

ALLIANCE TO SAVE ENERGY
Mission to improve the efficiency of America's resources
www.ASE.org

"NITROGEN INFLATED TIRES CREATE HYBRID TIRES"
www.GoNitroTire.com