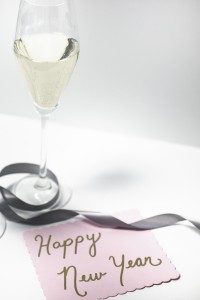 The first full week of 2014 is almost over, and resolutions may seem like a tradition that companies don't normally do, this doesn't mean that your managed fleet can't have one or two goals for the year. After all, setting out to make this year better than last year isn't a bad idea, and setting a fleet management resolution can help you do that. Here are three New Year's resolutions for managed fleets:
Improve Safety and Compliance
Improving safety and compliance could mean tackling a variety of issues. For some fleets, improving safety could mean working with drivers to reduce accidents. For others, it could mean working on maintenance so vehicles don't cause problems for drivers. Some managed fleets may decide to work on safety training and policies. Whichever way you choose to improve safety and compliance, it's certainly a resolution on every managed fleet's list, as these statistics show:
Drivers age 36-45 had the highest rate of accidents in 2011
The time of day with the highest rate of accidents is from 11 a.m.-12 p.m.
86% of drivers drink and eat while driving
77.7% of accidents occur on clear, sunny days – This one doesn't necessarily mean weather isn't a safety issue. It could mean that many fleets avoid driving in severe weather as a safety precaution, or reduce the number of vehicles on the road. It could also mean that drivers get more cautious as the weather worsens, lessening the chance of accident because they are paying much more attention to their surroundings.
Improve the Bottom Line
Reducing costs/increasing revenue is one of the biggest challenges facing fleet managers. It's a constant struggle as some of these costs and revenue sources, such as fuel costs, are outside your control. The economy can also make a big impact, affecting the overall business climate as well  as the willingness of customers to continue services. Improving revenue and/or reducing costs could also mean targeting a specific problems, such as improving driver productivity, improving driver retention, lowering insurance costs, and improving route efficiency.
Overall, improving the bottom line is a balancing act where everyone needs to be kept happy as initiatives are put into place. You may want to reduce vehicle acquisition costs, for example, but you also need to purchase vehicles that your drivers will like to use. You also don't want to invest in an initiative that doesn't equate to savings, or recoup its investment fast enough.
Improve Your Carbon Footprint
The most effective way to improve your carbon footprint is to work on your fuel efficiency. That's what Midwest retailer Meijer did, and credits its 60% carbon footprint reduction to fuel efficiency and the implementation of the EPA's near-zero emission standards. Because of these efforts, Meijer is now the largest all-clean diesel fleet in North America.
Fuel efficiency isn't the only way to improve your carbon footprint. If your fleet is growing over the next 12 months, then you can consider great fleet vehicle picks such as hybrid or electric vehicles as they would reduce your footprint. Your fleet could also start by coming up with metrics to measure your carbon footprint. You can't improve what you can't measure, and unlike safety and revenue, the carbon footprint doesn't easily come with data and indicators to show you who well you're doing.
Although there are many ways to meet these resolutions over the next 12 months, there is only one way that can accomplish all of them: nitrogen tire inflation. Putting nitrogen in your tires improves safety and compliance by keeping tires at proper pressure and tire for longer periods of time. This decreases the chances of a blowout. Having tires at proper tire pressure for longer periods of time improves your bottom line by reducing your fuel and maintenance costs. You're no longer wasting gas and reducing tire life because your vehicles have under-inflated tires. Nitrogen tire inflation also improves your carbon footprint because there will be fewer tires in landfills and less gas used in the long run. All of that is great for the environment.