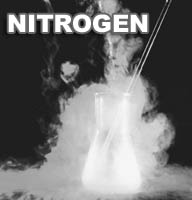 Nitrogen tire inflation is still a new concept. Although it has been embraced by entities such as the airline industry and NASCAR for many years, it still has yet to hit mainstream in the consumer market and in industrial fleets. Some folks have never heard of the practice, or may be skeptical that this whole thing is just a gimmick. Some may just be reluctant to pay money for something that can be done for free, despite the costs. Whatever the case may be, here are two myths about nitrogen tire inflation that we here at Nitrofleet99 are ready to bust.
1.) NITROGEN ELIMINATES THE NEED TO REGULARLY CHECK TIRE PRESSURE. This is absolutely untrue. While nitrogen leaks through a tire at a slower rate than oxygen, that doesn't eliminate the necessity of regular pressure checks. There are numerous issues (valve stem, puncture, rim seal) that can still cause major leaks within a tire and lead to unsafe driving conditions. Nitrogen will maintain pressure longer than tires filled with compressed air, and will make your tires safer to drive on, but we advise against using nitrogen tire inflation as a substitute for regular pressure checks. Besides, there are other tire problems, such as tread wear, that still require that you pay some attention to tire maintenance.
2.) NITROGEN INFLATION IS ONLY INCREASING NITROGEN FROM 78.1% to 93.4%+, THERE IS NO BENEFIT TO SUCH A SMALL INCREASE. This is an argument that a lot of skeptics use, but what makes nitrogen tire inflation beneficial isn't the nitrogen itself, but the decrease of oxygen and water vapor. Decreasing the percentage of oxygen is a more important factor than increasing the concentration of nitrogen. When filling your tires with nitrogen for the first time, the tires are purged twice, removing the 78.1% "bad" nitrogen (that is laden with water vapor, oil contamination, particulate, etc.) and replacing it with nitrogen that is clean (99.99% of all liquids and solids removed @ 0.01u) and dry (-40F or lower dewpoint). The nitrogen now has the properties of an engineered gas. Water vapor causes pressure fluctuations during normal driving, so removing it is a distinct advantage. The oxygen also damages the insides of your tire over time, so nitrogen tire inflation allows them to last longer.
Overall, nitrogen tire inflation is an excellent practice that will make your tires and driving safer and cheaper in the long run. Since this is something that is still new, there's going to be plenty of people who don't believe in the benefits and aren't going to find this worthwhile. However, many have found this practice to be beneficial and to make a difference with their cars and with their wallets.