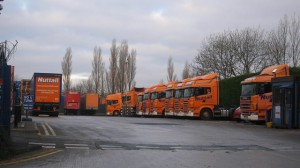 This is a guest post from Robert J. Hall,  president of Track Your Truck. Track Your Truck is a leader in GPS vehicle tracking systems and software for small and midsized companies.
Cars, trucks, and other modes of transportation are responsible for about 28 percent of all GHG (greenhouse gases) produced in the United States. With the emergence of the "Green Movement," businesses are honing in on methods for controlling GHG emissions and tracking their fleets' carbon footprint. Fuel cost reductions, government assistance, low road taxes, and a positive image all stand to be gained from a sustainable approach to fleet management, but mostly businesses are concerned with the state of our planet's environment.
A greener planet is good for all of us; here's how your fleet can be part of that.
GPS Fleet Tracking
Among many other benefits, a GPS fleet tracking system can significantly reduce fuel consumption, subsequently reducing your company's carbon footprint. GPS fleet tracking consists of hardware on your vehicles and software for the management of your fleet from a computer. GPS fleet tracking systems offer an overhead view of many different aspects of your fleet.
GPS fleet tracking makes oversight into the activities, locations and fuel consumption of your drivers possible, allowing for the most efficient use of your equipment. Utilizing GPS fleet tracking allows you to bring down out-of-route miles, lower carbon dioxide emissions, and lower costs all around.
Oversight and management of your fleet this way typically reduces idle time, further reducing fuel consumption. GPS fleet tracking systems notify you when any of your drivers are idling for an excessive period of time so action can be taken. Additionally, GPS fleet tracking can provide you with speed alerts and reports. If one of your drivers is speeding, you will be alerted. In addition, the driver will automatically be reminded to slow down. This eliminates excessive fuel waste as a result of speeding and increases the efficiency with which your fleet operates.
Maintenance
You can save on fuel waste with regular maintenance to your vehicles. Making sure that your fleet is in top shape ensures that it is also running at its most efficient level. GPS fleet tracking systems can be utilized, making a maintenance schedule simple.
Regular oil changes, spark plug replacements and changing air filters can make your vehicles burn fuel more efficiently, requiring less fuel and ultimately reducing GHG emissions. Through integration, your GPS fleet tracking system can alert you when maintenance is needed, saving time and keeping your fleet running at its most optimal level. You'll automatically know when filters or tires need replacing or other work needs to be done.
Electric and Hybrid Vehicles
Lastly, a move to electric or hybrid vehicles for your fleet is one scenario that should be considered. Don't be deterred by the initial cost; moving to a hybrid or completely electric fleet has proven a high ROI thanks to overall fuel savings.
Moving to a hybrid or electric fleet is the ultimate sustainable approach to reducing your carbon footprint. Additional benefits include lower road taxes and the positive perception that comes with "going green" in the eyes of the public. The U.S. government also provides assistance to companies who are switching to alternative fuels, providing technical support and public recognition.
Not only are there tax breaks, assistance, and cost reductions to be gained when you move to sustainable fleet management; you are also reducing emissions and doing your part to improve Earth's environment, a noble goal.