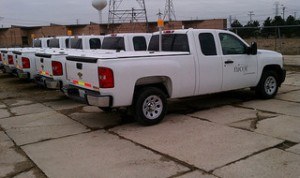 Purchasing a nitrogen tire system is a big decision, and with that decision comes the process of getting started. This process can include educating and training employees, tracking your return on investment, additional maintenance checks, and watching for reduced costs in other parts of your organization. Getting started with nitrogen can be difficult, at least until all those aspects are worked out. Below is all the information you need to get you and your managed fleet started with nitrogen tire inflation: choosing a nitrogen system, implementing that system into your fleet, tracking your fleet's carbon footprint, and how technology like nitrogen can reduce our country's energy dependence and fix its infrastructure.
How to Implement a Nitrogen Tire Inflation Program into Your Fleet – Buying the nitrogen tire system is important, but more on that later. What you also need to know as a fleet manager is how to implement that system in your fleet, and change the behavior of your staff so that your nitrogen tires are most effective. This article outlines how to implement this program into your fleet and make nitrogen tires a tradition with your organization.
3 Effective Ways to Improve Fleet Safety – Improving fleet safety is huge toward the bottom line and the efficiency of managed fleets. Nitrogen tire inflation improve the fleet and driver safety, and is just one of the effective ways that you can put in place to day to improve your fleet's safety.
How to Choose the Right Nitrogen Tire System for You – There are plenty of nitrogen tire systems available with a variety of sizes and features. How do you choose the best one for your fleet? This article covers the factors that are most important to consider before making your final purchase.
Managed Fleets and Ending America's Dependence on Foreign Oil – Green technology like nitrogen tire inflation can end our dependence on foreign oil. Transportation fleets and the trucking industry doesn't have to be the demons in America's dependence on foreign oil, simply consuming energy to keep this country running. By utilizing green technology, they can be part of the solution as well.
How to Track Your Fleet's Carbon Footprint – In order to practice sustainable fleet management, you need to track your fleet's carbon footprint and take steps to reduce carbon emissions. Tracking your fleet's carbon footprint will allow you to know exactly what your carbon emission is and offer ideas on how to cut those emissions. You can't improve what you can't measure.
Hybrid Tires and a Network of Nitrogen Services – Transportation accounts for almost 70% of  the fuel consumption in the US. Nitrogen services can change that by turning tires into hybrid tires, and a network of nitrogen services can enable cross-country vehicles to top off their tires with nitrogen. They can also ensure consistent tire maintenance, no matter where a truck or managed fleet vehicle stops for a routine check.
5 Great Fleet Vehicle Picks – Good fleet management includes picking the right vehicles for your fleet. After all, nitrogen tire inflation isn't the only way to improve the sustainability of your fleet vehicles. Here are 5 great fleet vehicle choices that add to your bottom line.
How the Cost of Carbon Affects the Trucking Industry – Climate change is much more than severe weather. It's also about the economic costs that hit hard and affect everyone, as illustrated by the $65 billion in economic damages caused by Hurricane Sandy alone. Learn how the trucking industry can contribute to reducing climate change and the cost of carbon.
photo credit: DiamondBack Truck Covers via photopin cc