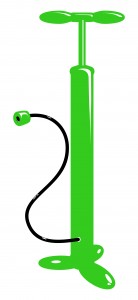 Summer isn't just a perfect time for a road trip. It's also a perfect time to ride our bikes, to get some exercise, and to enjoy the warm weather. It also means that as we use our bikes again, we also need to think about maintaining them well and ensuring we will have a safe ride and will not have to worry (too much) about getting a flat. Much like with managed fleets and family vehicles, nitrogen tire inflation can also be a crucial component to tire care and safety with your bike tires.
What's the Big Deal with Nitrogen Bike Tires?
We've talked about how great nitrogen tire inflation is for the consumer market, and how nitrogen tire inflation benefits managed fleets and the transportation industry. Those same benefits, with exception to fuel efficiency, also apply to bike tires, such as
the ability to hold pressure longer
reduced moisture going into the tires, which extends the life of the rims, tire, and tire valves
reduced rolling resistance
reduced chance for a flat or a blowout
On top of that, putting nitrogen in bike tires is a growing practice among cyclists. The Tour de France uses nitrogen in its tires, and bicycle sharing systems in cities such as New York, Montreal, London, and Paris also use nitrogen. This isn't something that's experimental, or something that's practiced by only a small group of riders. Large systems and entities are using it, and wouldn't be using it if it didn't work or make any difference. As David Finlayson, president of Prestacycle, said in Velo News, "Remember that a 100-mile bike race is often won by only inches. Even the smallest difference in tire pressure loss reduction or rolling resistance can make the difference at the line."
Not Everyone is in a Bike Race
This is true, and worth pointing out because it's an argument that's often used against nitrogen tire inflation as a legitimate practice outside of a competitive environment. Sure, the airline industry and NASCAR use nitrogen tires, but those are special circumstances, circumstances that don't apply to everyone else. However, just because nitrogen tires are useful in a special circumstances doesn't mean that the practice doesn't have any place, application, or benefit in normal riding conditions. In fact, nitrogen tire inflation and proper tire pressure are even more important for bike tires and bike riders since bike tires typically hold less pressure than car and truck tires (normal bike tires are usually under 30 psi while car tires have a maximum of 50 psi). This means that any loss in pressure, or having under-inflated tires, has a much larger impact on the ride and in safety because there's less pressure to work with. Although losing one psi in pressure makes a difference in cars, it makes a bigger difference in bike tire.
Overall, putting nitrogen in your bike tires isn't a new practice, but it's one that hasn't received much attention or discussion. Granted, it's a little tougher to put nitrogen in your bike tires because nitrogen isn't as available for cyclists as it is for cars and trucks. Yet, with increased need and awareness, this situation could change.
Related Links:
Why Nitrogen is Great for Tire Pressure
Nitrogen Tire Inflation Proved to Create Hybrid Tires