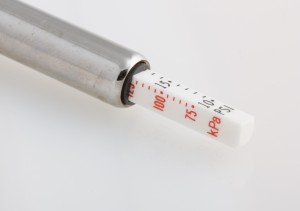 Today, we will call foul on an article from 2008. Carl Feagans in a Hot Cup of Joe argues that nitrogen tire inflation is a scam and not worth it for general consumers. Although we do think that the benefit of nitrogen tires is best seen in managed fleets, that doesn't mean that the whole practice is a scam and that there isn't any benefit at all.
Nitrogen-Filled Tires Maintain Proper Tire Pressure Longer
Feagans' biggest argument in claiming nitrogen tire inflation is a scam is that nitrogen actually effuses faster from a tire than oxygen. He points out that what's used in the tires are the diatomic molecules (N2 and O2), not just the element. Based on Graham's law of effusion, nitrogen would leak faster than oxygen.
The science in Feagans' post is accurate. However, it doesn't apply because the argument discusses nitrogen and oxygen, while with nitrogen tire inflation, the discussion is between nitrogen and regular air. Regular air is much more than oxygen, and no one fills their tires with pure oxygen. Therefore, Feagans' argument doesn't disprove the value of nitrogen tire inflation. Feagans wanted a non-nitrogen tire industry study that found nitrogen-filled tires lasting longer than air-filled ones. Well, Ford conducted a study in 2004, and not only found that the nitrogen tires did last longer, but that oxidation takes places from the inside out. And Ford isn't the only one that supports the practice: Michelin and Firestone also think that nitrogen tire inflation is a good idea. Popular Mechanics also said the same thing in 2009.
Oxygen or Nitrogen: Which Is It?
Yes, air is 78% nitrogen and 21% oxygen. Nitrogen tire naysayers love to quote these numbers as the reason why nitrogen tire inflation is a scam as if a 21 percent jump isn't good enough. Would we argue that with anything else in life? (You're 21% increase in sales in no good. Get that up to 33% and we'll be happy. A 21% discount isn't enough. I need a 50% discount.)
Anyway, we digress. Feagans is no different in quoting these numbers. Naysayers also, even when quoting the 78%, also love to downplay the power of oxygen while saying that 78% nitrogen is somehow good enough (even though the nitrogen doesn't do anything. That's why this whole thing is a scam). One of the consequences of regular air is oxidation, and Feagans asks why oxidation doesn't take place on the outside and why the nitrogen dealers are only worried about oxidation on the inside. The biggest reason is that oxygen is a very reactive element, and affects more than just the tire. The oxygen will also corrode the aluminum and steel wheels, causing additional problems to your vehicle. It's not just the rubber we're worried about.
Oxygen is not only reactive with other elements, it's also very reactive to temperature. The airline industry and NASCAR use nitrogen-filled tires because their tires can run so hot that an air-filled tire will suffer a blowout under most of their conditions. Yes,  nitrogen is less volatile. No, it doesn't matter if you're in a fiery crash. However, your tires will run cooler with nitrogen, so they are better protected against a blowout, which does happen to regular consumers and managed fleets.
Nitrogen Tire Inflation is No Scam!
Even so, it is not a replacement for checking your tire pressure regularly and making sure you are maintaining proper tire pressure at all times. Flats still happen, and even though nitrogen maintains proper tire pressure longer, it still does leak over time. There is always a better way to do things, even simple things like keeping your tires inflated. Nitrogen is that better way, until someone creates a tire that doesn't leak and doesn't need to be topped off ever again.