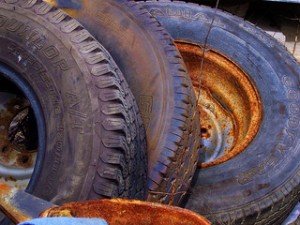 For many managed fleets, tires represent about 20 percent of total expenses, putting them in the top three costs for operations and maintenance. For sanitation fleets, tires are the number one cost in operations and maintenance, costing the fleet more money than fuel. However, tracking the total cost of the tire from the beginning to the end of its life isn't something that all managed fleets do, even though tracking the total cost will help many fleets save money on tires. Since saving money on tires can immensely help the bottom line of many managed fleets, here's how to do it so that the fleet cuts its costs without sacrificing safety.
Invest in a Tire Management System
A tire management system can provide real time data about your fleet's tires and alert drivers of any potential problems, such as a pending flat. Since the software measures tire pressure and tread depth, fleets can improve safety and fuel economy by catching these problems early. The system can also reduce maintenance costs by reducing the downtime of a particular vehicle. Topping off a vehicle costs less than replacing a blown out tire or assessing the tread depth of each tire manually. By taking the time to do smaller, preventative maintenance, fleets can also reduce their labor and tire replacement costs.
Although a tire management system can be done on paper, a manual system does not offer the same benefits as an online or computerized system. Not all commercial vehicles have tire pressure monitoring systems installed, so the driver has to remember to check the vehicle's tire pressure and must remember to do so after the tires have cooled. Drivers should still continue to do this, but the information isn't in real time. If a driver forgets, for whatever reason, then he/she may miss under-inflated tires that can lead to reduced fuel economy or to a safety hazard.
Make Tire Pressure the Number One Rule
Whether your tire management system is manual or on a computer, proper tire pressure should be the first thing in place for any management system. Proper tire pressure is much more than checking it routine, but a good tire management system should also include targeted pressures for the tires, designated periodic checks for proper tire pressure, and calibrated air gauges. Proper tire pressure cannot be assessed by sight or touch alone. A calibrated gauge needs to be used every time. A solid tire management system that emphasizes proper tire pressure can save a managed fleet thousands of dollars per month. It may take up to six months before the fleet sees the return on the investment, but it also takes only 30 to 60 days for a fleet to lose money on under-inflated tires because of the reduced fuel efficiency and the reduced tire life.
Consider Nitrogen Tire Inflation for Your Managed Fleet
While making tire pressure a top priority in your tire maintenance and management, consider the practice of nitrogen tire inflation. Nitrogen-inflated tires maintain proper tire pressure up to three times longer than an air-inflated tires. Tires inflated with regular air lose about 1.5 PSI per month, while nitrogen tires take about three months to lose the same amount of tire pressure. Managed fleets still need to check their tire pressure regularly with nitrogen tire inflation, but the practice will reduce the number of blowouts, flats and top offs while keeping fuel efficiency and tire life at their maximum. Much like tire management software, there is an initial investment needed when starting a nitrogen tire inflation program, but after a few months managed fleets will see a noticeable difference in the money saved on tires.
Overall, managed fleets need to view tires as an asset, not a commodity. If they are viewed as an asset, then the perspective shifts on how to get the most of the fleet's tires and how to get the most out of that investment. The three strategies shared above will help your managed fleet save money on tires.
photo credit: psyberartist via photopin cc