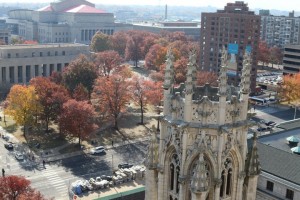 Consisting of over 100 coalitions, the Clean Cities Coalition is a government-industry partnership designed to advance our country's economic, environmental, and energy security by supporting local decisions to adopt practices that contribute to the reduction of petroleum consumption. The program's 8,400-plus local stakeholders that have helped to reduce the use of petroleum, to add more than half a million alternative fuel vehicles on the road, and to encourage the construction of over 3,000 alternative refueling stations.
Since the inception of Clean Cities in 1993 by the Department of Energy, the program has reduced petroleum consumption by nearly three billion gallons! One way stakeholders can continue to contribute to the reduction is to utilize nitrogen in their tire inflation. Instead of spending time and money purchasing and developing new technology, why not just do something different with the old technology? If anything, it's simply much more economical.
About 54 percent of Americans drive on under-inflated tires. An under-inflated tire can reduce fuel economy by five percent. This can be fixed with nitrogen, which provides a much more stable tire pressure for a much longer period of time. Nitrogen reduces the average rolling resistance of the tire, thereby improving fuel economy. Five percent may not seem like a lot, however, that five percent adds up to increased fuel and maintenance costs for the many company vehicles of which service and fleet managers are in charge. Besides improved fuel economy, here are a few other ways nitrogen can improve your fleet:
Improved Safety: Nitrogen enables more stable tire pressure for longer periods of time, thereby reducing the chances for a blowout.
Improved Tire Wear: By eliminating the moisture and oxygen through nitrogen tire inflation, the risk of oxidation of tire walls is significantly reduced, creating better wear characteristics.
Improved Tire Pressure Monitoring System Performance: By using nitrogen instead of air in your tires, you reduce "false positive" indications from your tire pressure monitoring system, thereby reducing unnecessary service calls.
Improved Rim Life: The moisture and oxygen contained in air accelerates rim rust, causing slow leaks in your tires. The dryness of nitrogen eliminates that condensation.
Whether or not you or your city is a part of the Clean Cities Coalition, it's very easy for transportation industry professionals to contribute toward the cause. To learn more about how to get more nitrogen, and less air, into your tires, check out NitroFleet99.