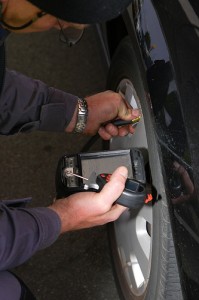 We at Nitrofleet99 ask this question because a quick online search of keyphrases like "nitrogen tire inflation", "nitrogen for tires", and "nitrogen in tires" reveals that there isn't a whole lot of recent news regarding the practice. Most articles that come up in the results are from 2007 or 2008. Other than the articles that we've written on this blog or for other news sites, one of the most recent that we found was on a finance blog from 2010 (will respond to this specific article in an upcoming post).
So, what's the news with the news? How did nitrogen tire inflation become a 'passing fad', when many managed fleets, auto repair shops, and auto dealerships are utilizing nitrogen, or are offering it to their customers? How did awareness of the benefits of nitrogen fall under the radar, especially when it seems that more and more people are learning about the practice, and discussing it on blogs and forums?
Unfortunately, we don't know the answers to those questions, but we do know that with gas prices increasing (will also discuss in a later post), consumers need new ways in order to cut costs. We do know that the practice is becoming more common, and the use of nitrogen more pervasive, so nitrogen tire inflation is worth discussing for the sake of education. We also know that if someone doesn't take the time to put the right information out there regarding nitrogen tire inflation, we are only providing the opportunity for nitrogen myths and misinformation to get out there and to control the conversation.
There hasn't been a lot from us in the past few weeks, but we aren't giving up on the conversation of hybrid tires and tire maintenance practices quite yet. Prepare to see a lot more from us in the future.