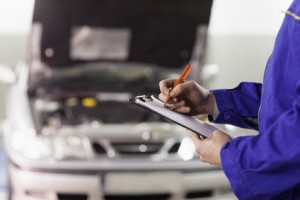 A recent study by the Automotive Aftermarket Suppliers Association (AASA) found that the trend of DIY car repair is shifting. Perhaps as people recover from the 2008 recession, they are going back to the old means of car repair: hiring a mechanic to do it for them. While DIY can save money, it isn't always worth it and may be more expensive in the long run—especially if you don't fix the right part (or don't fix the part correctly) and then need to take your car to a professional anyway. Learn when to DIY and when to have someone DIFY when it comes to car repair.
DIY: From Beginner to Expert
As The Humble Mechanic notes, there are five variables to consider when deciding whether or not to make that car repair yourself:
Price – How much will the job cost to outsource, and how much will you save by doing it yourself? If you can purchase a part for $25 and save $50 on labor, that seems like a good deal. However, if a job takes you three times as long, you lose out in the end.
Passion – If you can take or leave car repair, leave it to the pros and spend that time doing something you love. But if you love tinkering, you might opt to challenge yourself with long repairs just because you love it, and that's fine.
Time – It may make sense to pay for the repair if it will take you a long time to complete the job. For simple tasks with a low time frame, DIY makes sense.
Knowledge – There are many ways to get knowledge, so if all that's holding you back is lack of knowledge, get to work. You can use print and online resources to boost your skills.
Tools – If you need special tools to complete the job, it's generally worth it to pay the mechanic rather than invest in tools you may not use again.
With these tips in mind, evaluate the difficulty of your project and decide whether to DIY or call your go-to guy. AASA recommends that auto repair newbies begin with easy jobs like changing the antifreeze or replacing the car battery, and folks with some experience try mid-level tasks like installing brake pads and brake shoes. High skill-level projects like changing water pumps require expertise and special tools and aren't usually good candidates for the average DIYer.
Tips for Dealing With Your Mechanic
Even if you decide to leave the job to your Savannah mechanic, you don't have to trust every word he says. The AutoParts Warehouse app lets you check the price of car parts to ensure you're not being overcharged for make/model replacements.
The National Institute for Automotive Service Excellence enables you to search for qualified mechanics by zip code, and you can check the value of your old car with Kelley Blue Book. When your car's maintenance costs outweigh its value, you can find used cars in Savannah by Drivetime dealer or zip code, for example. When you need a mechanic's aid, these tools help ensure that you're getting quality service for the price point and that the vehicle you're driving is safe.