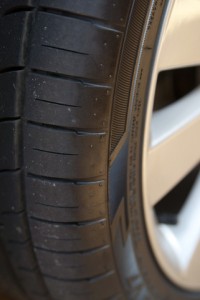 This is a guest post from Kerry Blake.
Many myths about the use of nitrogen in tires exist in the wake of its relatively recent expansion in the world of passenger vehicles. These myths pertain to the supposed miraculous effects of using nitrogen in tires as opposed to regular air, and how they are presented to the consumer market. For that reason, we have decided to clear the air (no pun intended) and present to you some facts relating to nitrogen tire inflation.
Moisture
There is not much difference between switching from oxygen to nitrogen in new and used cars, but there is a difference between inflating your tires with normal air in, for example, San Diego and Las Vegas. One of the main advantages of nitrogen is the fact that it doesn't allow any moisture in the form of water vapor to remain on the tire wall, while some percentage of water vapor is inevitable in air, which consists of 78% nitrogen, 21% oxygen and 1% of CO2, water vapor and other gasses. That percentage, of course, will be somewhat higher along the coastline and the air will be drier in places like Las Vegas, so it is not quite the same if you fill your tire with air at the seaside or in the desert. You will also strain your tires more when driving in an extremely hot or cold environment. Excess moisture may contribute to the corrosion of rims and cause your tire pressure to be less stable in more extreme temperatures and harsher surroundings. For that reason, nitrogen is used for inflating tires in F1, airplanes and various other vehicles where the tires are exposed to extreme temperature changes.
Performance
Since nitrogen molecules about four times bigger than oxygen molecules, they cannot pass through the rubber structure as easily. That is why a tire filled with nitrogen will maintain its pressure much longer, making it less likely for you to end up driving on under-inflated tires, which will affect the fuel economy and handling somewhat.
Nitrogen will maintain the tire pressure at the same level for about three times longer than regular air, which means you won't have to check your tire pressure every couple of days. Of course, this doesn't mean that you can forget about your tires and stop checking the pressure altogether. Monitoring the pressure in your tire is the only way for you to be sure you are making the most out of your car. Nitrogen also ensures more accurate readings, so you don't unintentionally over-inflate or under-inflate your tires and ruin your fuel economy.
Is it worth it?
If you drive a truck on ice roads of northern Canada or a or in the hot, desert climate of the Southwest, then it is definitely worth it to switch nitrogen tire inflation. There is a reason it is used in F1 cars and airplanes and it is precisely in these types of extreme conditions that nitrogen has been proven to be much more stable and predictable than normal air. Even though you're not driving at the same speeds as race cars, this doesn't mean that you and your tires aren't affected by the outside temperature, especially in climates that have an 80-degree difference or more between summer and winter.
Additional resources:
The Winter Benefits of Putting Nitrogen in Your Tires
Some of the Wackiest Arguments Against Nitrogen Tire Inflation
Nitrogen in Tires Consumer Reports Response